In a digital age where discussions on transparency and company culture are aplenty, our members have developed the Hush app – an innovative solution to tapping into employee insight and gauging satisfaction by driving engagement within a digital community.
Hush has the potential to transform organizational culture as it allows employees to anonymously voice their opinion on everything from nepotism, and the wage gap, to interview tips, work culture and career growth.
Let's dive right in, as founder duo Ashutosh and Umesh tell us about their incredible product.
What is Hush? How does it work?
Hush is a mobile application that provides forums for employees to express their real opinions, pressing concerns and pose difficult questions on topics that are important to them. Every user gets access to two forums on the app. The first is a private forum (or a Company Wall) that can be accessed only by you and your verified coworkers. The second is a public forum where you can seek answers from industry peers. Both the forums are completely anonymous.
How did you begin to build your product?

We did some initial market research and then started building the product with a small team. We first opened the product to only 2 or 3 companies and had a very basic version of the app until we started seeing usage and retention.
Together, you have built two companies before you created Hush. In all your previous endeavors, creating a community seems to be the common thread; where did your passion for community begin?
At the root of it all, was a passion to build real communities. We knew we wanted to do that with a consumer product, unlike a B2B or e-commerce company. Tech is only an enabler and in all our products, the focus is to improve the lives of community members in a real way.
We've always had the desire to translate real-life communities to the digital realm. Our app gives employees a whole new platform to engage in conversations and helps people connect beyond their immediate circle. A truly great community is defined by a shared interest or belief and a strong sense of belonging. That's what we strive to create.
We're big fans of openness too (as you can tell from our vast open spaces). What prompted you to break down walls and encourage transparency across organizations? How does it benefit a company?
Due to the anonymous nature of the platform, people can provide unbiased opinions without having to worry about repercussions. But, we'd like to assure you that, while the identity of the user is anonymous, we do conduct a verification on whether they are an employee of the company or not.
We wanted to ensure that each opinion would be viewed in isolation without connecting it to the individual. In most companies, the value of someone's opinion is tied to their level/role and therefore, not every voice has equal importance.
For a company, this gives them a tool to really understand what their employees are actually feeling and can become a huge input for their employee engagement efforts.
What has the reception been like so far?
We are growing organically at the moment. We have 4000 users and employees from 40+ companies are on the platform now. In a few companies majority of their employees are using the platform and providing inputs, opinions, and ideas daily.

Do you feel that employee feedback is something that companies have overlooked while framing policies and building businesses and why do you think that is?
Companies have attempted to analyze employee feedback using traditional methods such as periodic surveys and face-to-face discussions. However, these approaches are not always effective. To begin with, the word 'feedback' itself has a negative connotation. There are also multiple constraints to filling surveys and generating authentic, relevant feedback. Even if they were to collate information, management often faces a lag in receiving feedback and thereafter, implementing corrective action.
Challenging the conventional approach, Hush is an extremely effective tool to gauge the pulse of employees. It acts as a platform for the modern millennial to express concerns and ask questions in an unofficial manner. It also provides real-time topical feedback to the leadership, as it immediately brings to light pertinent issues.
You have a great portfolio of clients, from Oracle to Zomato to PayTm, Myntra and LinkedIn. What would you say has drawn such a diverse bunch of companies to the app?
We haven't invested a lot in marketing. All the growth that we have seen has been entirely organic. We believe that we've crafted a great, unique product and that word has spread like wildfire. Very early on in our journey, we received positive feedback from close friends and colleagues to whom we hadn't even disclosed that we were the minds behind Hush. From everything we'd heard about the app before and all the reviews we've received now, we know that a product like this has great potential in the market.
Has there been a topic of discussion that came up on the app that fascinated you?
We had anticipated that majority of the discussions would revolve around what is wrong with the company. But a lot of people have given product ideas in their company community, some of which have been really good. We've also noticed that users provide positive explanations to problems with the company and set the record straight on certain issues.
One amazing observance was a discussion thread on mental harassment at work. People stepped in to support a user who expressed severe discouragement as a result of work stress. We've seen a sense of relatability since you know these people are your coworkers or legitimate employees who have similar hopes, fears, concerns, and issues.
What direction are you hoping the company will go in? What are additional features you looking to build out within the app?
We think over a period of time we can be the voice of employees globally. We are now going beyond the app and focusing a lot on building features on our website. From an app perspective ability to create public and secret groups within your company would be our next big feature launch.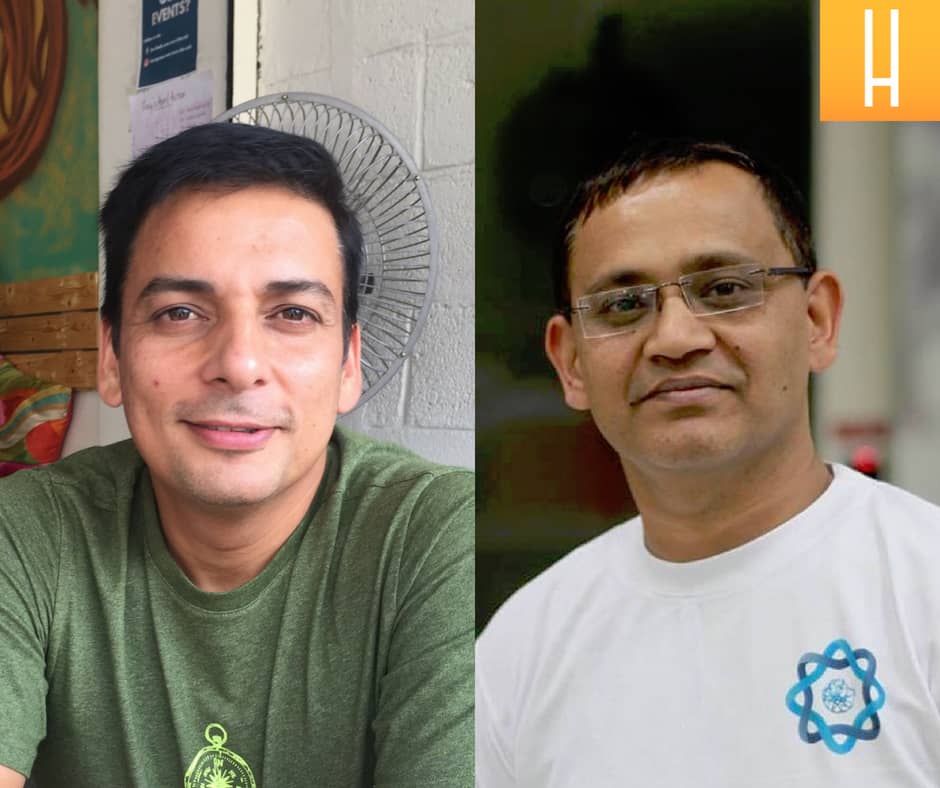 Could you tell us a little about your relationship as co-founders? How did you both connect over the idea for Hush?

We had previously worked in the same team at Yahoo for 2.5 years and became friends. We launched our first venture together in 2016 after endless weekends spent debating on what problem we should solve. At Hush, one of us (Umesh) has expertise in developing cutting-edge technology while I (Ashutosh) take lead in product marketing. In terms of skill sets and temperament, we bring a fair balance to the table.
Are there any books or movies that you would highly recommend?
There are two insightful books we'd suggest: The first is 'The Culture Code: The Secrets of Highly Successful Groups' by Daniel Coyle which focuses on building teams and tightly knit communities. The second is 'Radical Candor' by Kim Scott which outlines great tools for managers on handling people, requesting and giving feedback at the right time, and so much more.
Anybody who is a manager should DEFINITELY get their hands on these books!
Read Full Article from CoWrks Blog https://ift.tt/2sgDk3G