The amount and type of personal workspace can affect social interaction among employees.
Photo provided by OstermanCron and Kimball
Improving employee well-being has long been a hot topic among business leaders, but the conversation is usually limited to physical wellness — that's why so many new office spaces include amenities like free snacks, fitness centers, and play areas. Employers need to recognize how the work environment can also affect staff members' mental health, which studies show has a direct connection to creativity and, in turn, company growth and prosperity.
According to the American Psychological Association (APA), a psychologically healthy workplace should include five components: work-life balance, health and safety, employee growth and development, employee recognition, and employee involvement. If your company doesn't have a plan in place to address these issues, your employees might not be as happy as you hope. And when employee well-being suffers, so does a company's creativity and opportunity for innovation.
Nick Marks from the Happy Planet Index, a global index of human well-being explains, "People who are happier at work are more productive, more engaged, more creative, and have better concentration."
Physical workspace linked to employee stress levels and happiness
The APA's list is missing one critical aspect of the workplace that affects mental health and happiness: the physical workspace. We expect some employees to spend their days working in an unimaginative little box, right next to other employees in their unimaginative little boxes. And we ask others to think while sitting out in the open amid noisy neighbors, ringing phones, and other distractions.
In either situation, creativity and productivity suffer right along with the employee.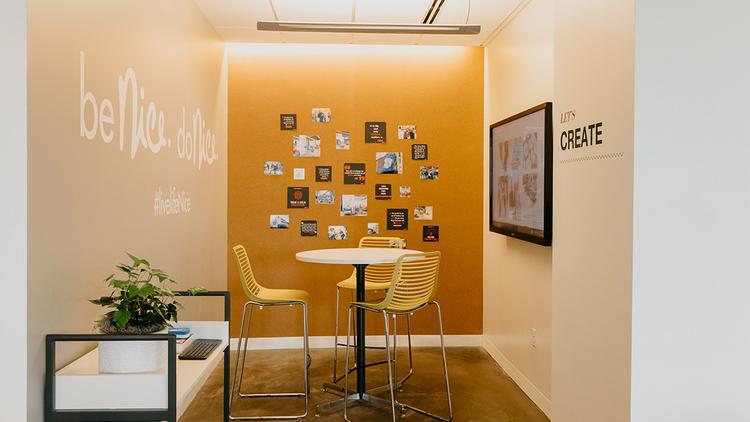 When employees have the ability to control their level of privacy, the adverse effects of other workplace stressors are reduced.
An Ohio State University study tracked stress levels of white-collar workers. The participants were randomly split into two groups. The first group had to work in an old office building with low ceilings, poor lighting, and noisy air conditioners. The second group was sent to a newly-renovated office with skylights and an open office layout. Within 17 months, employees in the older building showed more stress than those in the updated space, even when they weren't at work.
The 8 zones of an ideal office space 
Recently, The Mayo Clinic wanted to find out if different work environments really would affect the productivity of employees. They built a "Well Living Lab" where they could control lighting, temperatures, background noise, etc., and compared the productivity of employees in different environments. They learned that the ideal office space for productivity consists of eight zones:
Home base — Quiet area for concentrated, focused working.
Open plan — Supporting communication, meetings, brainstorming.
Meeting room — For conferencing, workshops, and training sessions.
Breakout area — For informal chatter or to recharge.
Touchdown — For spontaneous, flexible working.
Refuge area — For confidential conversations.
Resource room — For equipment like printers and copy machines.
Inter-zone corridors — Not just a necessity, but also a chance to refresh, pump blood to your brain and legs, and spark creativity.
The amount and type of personal workspace can also affect social interaction among employees. For example, the theory behind the open-office concept is that it will generate more group discussions and foster idea exchange. But in reality, the exact opposite is often true: Too many people sharing a space can force employees to hunker down and put on headphones in an attempt to block out the excessive noise and distractions.
The 3 physical characteristics of a creative work environment
Young Lee, author of Creative Workplace Characteristics and Innovative Start-Up Companies, wrote that there are three characteristics of a physical work environment that are important to producing creative, innovative ideas, products, and services:
A balanced layout that offers space for individual and team work.
Technology interfaces for collaboration.
Spaces for idea generation.
In other words, for a workplace to support every employee's well-being, it needs to offer a choice of spaces that reflect the type of work they do — quiet, secluded spaces for working alone or in pairs; open spaces for group meetings and brainstorming; and lounge areas to relax and recharge.
Does your workplace offer a choice of spaces that reflect the various types of work your employees do?
According to Ester Buchholz, psychologist, psychoanalyst, and author of The Call of Solitude, the need for "alone time" to let our thoughts wander and figure things out is essential for original creative thinking and innovation. When employees have the ability to control their level of privacy, the adverse effects of other workplace stressors are reduced.
Leah Stringer, a workplace strategy expert and author of The Healthy Workplace, believes that "human health should be the foundation of workplace design because companies thrive on the innovation and abilities of their people." Take care of your employees' well-being and you'll be rewarded with not only increased loyalty, but higher levels of job engagement and creativity — two things your organization needs in order to succeed, both now and in the future.
Photo provided by OstermanCron and Kimball
Author:
Originally Published on January 21, 2019 at 04:33AM
Article published originally via ""flexible office"" – Google News https://www.bizjournals.com/cincinnati/news/2019/01/21/workplace-design-impacts-employee-well-being-and.html